A few weeks ago, I had the treat of being on the support boat of a Channel swimmer challenger. The challenger in question was Chris Styles, who lives nearby and also swims in Brockwell Lido and went on the same SwimTrek week as me.
I was, in truth, slightly taken aback when towards the end of the week one evening, Chris asked if I wanted to be on his support boat. This is not something to take lightly. When you consider the amount of time that you dedicate in training and preparation to take on the Channel, you want to have 100% faith in your support team handling everything on the swim so that the only thing you need to worry about is swimming. I was flattered to be asked and said i would be delighted.
Chris got the call from the pilot, Mike Oram, that he had a swim window in 24 hours, about a week earlier than anticipated. Incidentally, Chris was second on his swim window but the other swimmer wasn't able to get his team ready in time and so the slot was offered to Chris. With British weather the way it is, and particularly Channel weather, being flexible and ready is definitely key.
There was Martin and Ray who were both on the same Swimtrek trip. Despite the swim being brought forward, Chris was not caught unprepared. Weeks before the swim itself he had sent a group email to the 6 or so people he had teed up in his team. He had an exemplary full briefing document on duties, equipment, feeding plans,… even tips on how not to annoy the skipper, which is important as he has final say on whether to abort the swim. You don't want to give him an incentive.

Team photo
As we stood in the harbour by the boat, Gallivant, on a relatively pleasant summer evening the debate was whether we go now or wait a few hours. Mike, who really is an expert in Channel swimming piloting, explained authoritatively that it was a bit choppy now but was forecast to calm down through the night and then flatten out during the morning. Or we could wait until it flattened out but there was a risk that towards tomorrow's midday it would get rough again. In my opinion, it was a no brainer, get the rough weather out the way and then cruise through the rest. But there were three other swimmers who were all going later on in the evening, about 10pm.
The weather is only one consideration though, there is also swim speed and currents to take into account. But the more I listened to Mike and his crew talk about the intricacies of one option or another the more confused I got. At one moment Mike looked up at some cirrus clouds and deduced that we had 10 hours before the weather changed. I think I nodded at the right moments but really this was going over my head.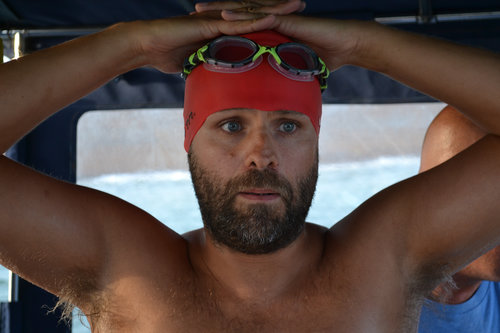 Anyway Chris made the decision to go and finally off we set for Shakespeare beach, about 5 minute ride out of the harbour. We had a shock when we came out of the harbour though as huge waves rocked the boat side to side, leading to Martin stacking it and nearly breaking his SLR camera! Looking over at Chris' expression there was certainly a flicker of concern but a steely determination or at least acceptance somehow took over. My reaction would have involved decisively explaining to Mike that we should head back to base and go later!
As it turned out it was just by the harbour walls with the rebounding waves that it was really rough. As we approached the beach it flattened out a bit and was actually rather pleasant.
Chris had family and friends waiting on the beach, which is a really nice touch and so he swam to them, gave them all a hug. Then the Gallivant's horn blared and in he (literally) ran to the sea. He was off at around 8.30pm. It started off pretty nice and we were thinking he had definitely made the right decision to set off now. But then Ray pointed out yonder where you could see the odd slither of white but nothing too hairy looking. He explained that it was calm until we hit the main current flow where the contrasting currents created chop.
So for the first 45 minutes or so Chris was enjoying a gentle, training-as-usual warm up, and then when he broke into the main current it got progressively more choppy. The waves got bigger and bigger. There was no determining a general prevailing wave direction they came from all angles, moving 360 degrees around and about Chris.
(as it started to get a bit lumpy)
Things were not much better on the boat as Martin started to go a bit green, letting out the odd ominous burp. He was succumbing to sea sickness and he came down hard. Within an hour of feeling a bit woozy he was restricted to a horizontal position with occasional stumbles to the side of the boat (the other side from which Chris was swimming).
Before we got on the boat, Ray had said he must give me a sea sickness pill. I've never been sea sick and I want to test myself to see how well I can handle the sea and so was inwardly a little reluctant. However this was Chris' swim and I wasn't about to start being difficult and took the pill.
Throughout the night I started getting a bit of a stomach ache, which felt like being hungry. But also I was hungry so I decided to eat (a scotch egg, probably not the best choice!). The hunger feeling in the stomach didn't really go away and I didn't feel great but I never felt like I was going to be sick. But I could see how perhaps I could have been sick, if you know what I mean. What I don't know (obviously) is how I would have fared had I not had that pill. How effective was it?
Ray, who is an ex-marine and clearly pretty tough (and has been kayaking in Svalbard and therefore an intriguing fella in my book) was even feeling a bit woozy. Seeing as I'm a bit of a night owl by nature, I suggested he got his head down and some sleep and I did the midnight shift. Chris was feeding once an hour for the first two hours and then once every 30 minutes. Those 30 minutes came round quite quickly so there isn't much time for sitting about and I had to be on the ball – the last thing Chris wants is us missing his feed!
His preferential choice is Torq products, which he's tried and tested, having done two Ironmans over the years. On top of the Torq carb drink and energy bars, his larder consisted of chocolate mini-rolls, milky ways, tinned peaches, jelly babies and coffee. He also had some painkillers and anti-inflammatories. After each feed, he would put his order in for the next feed.
Chris was swimming really well. Nice and gliding, a steady 47-stroke rate, looking comfortable and in control despite the conditions. But I imagine that the night really dragged on for him. Starting at 8.30pm meant he had a full night of swimming. Although going near mid-summer meant that the night wasn't so long, perhaps 4am it starts to get light and sunrise by 4.50am. But I must say it doesn't appeal to me to be swimming so long in the dark. Especially with the waves that he had because you can't see them coming. I realised that I needed to get more experience swimming in choppy water for long periods of time and to see if it affects my speed and energy. And if it does to find techniques to make me more efficient or able to deal with it better. One of the captain's crew, Mike Ball was saying that it took him 16 hours to swim the Channel when he did it and that he had bad weather the whole way across. Martin nudged me saying 'Yikes, I've seen him in Dover and he is a rapid swimmer'. He's also not a small bloke, so if he's taking 16 hours to swim through choppy seas then I wonder how a much smaller, slower, weaker me would fare?
They say that when the sun comes up it's a massive boost for morale. Chris had the added lift that the sea had flattened out a bit, but was certainly no millpond. We were well into the shipping lanes by now and it's quite cool seeing those massive tankers which appear quite suddenly. Chris came in for a feed and said he'd been stung by jellies. We started to notice droves of the floating ghosts near the boat, all different colours and sizes, some looking mean and dangerous and others just fat and ugly.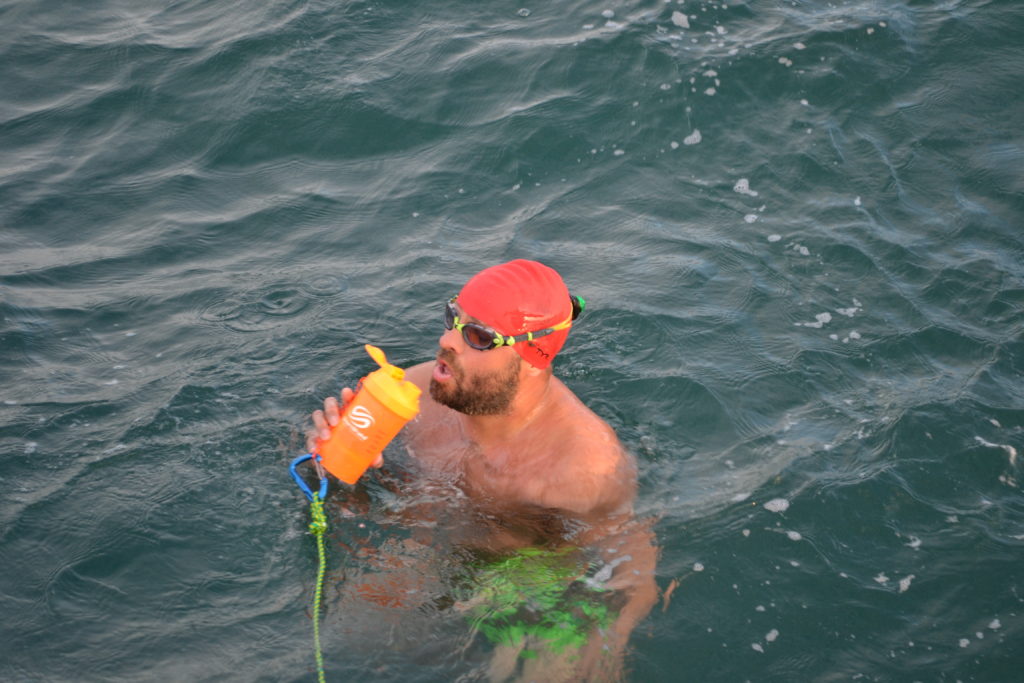 As we moved into the second half, it looked like Chris had hit a wall. It was around the 9 hour mark. The night and the big waves (and the distance so far) had clearly taken it out of him and Mike even mentioned concerns. He said that the engine was off, we were barely moving and the two swimmers that started at 10pm had caught up and taken over. We could see them in the distance to the west, they were following a very different line to us and were clearly a bit further ahead. Chris was going through the motions, one arm after another, but there wasn't much power behind them. It's puts you in a difficult position because he comes in once every 30 minutes and in the 1 minute that he comes in you must remain positive otherwise it could affect him mentally. And then he would have half an hour thinking negative thoughts, which can lead to downward spiral mentally.
We gave him some coffee and some encouragement but didn't mention that he was stalling. I'm glad we didn't because Chris somehow found something in the locker and started to stretch his stroke out and started moving again. The tide had also changed and started swinging him south-west towards a faint Cap Gris Nez. From one feed to the next it became clear that if he carried on he would be ok. He wasn't going to land on 'le nez' as he wasn't far west enough and the tides would change before he reached it. Between each tide there is an hour of 'slack' water when the tide is turning. Chris used this to swim straight towards land and by the time the tide had turned he was within two miles of France and within inland waters therefore not at risk of the tide sweeping him down to Calais.
He really slogged that last bit and eventually made footfall in France. Ray and Martin jumped in to swim that last bit with him and when he arrived on the beach he ran out of the sea screaming in joy, relief, exhaustion… whatever the myriad of emotions that a Channel swimmer feels when they land on French sand. I must say I felt quite emotional watching it from the beach, it was a super human effort.
So massive congratulations to Chris, It was epic, in the real sense of the word (rather than moneysupermarket.com). I came away feeling like I'd witnessed something really quite special. And you must remember, although it may be becoming more popular, Channel Swimmers are an elite bunch, there aren't many of them. I was also very aware that I could come away from that experience thinking oh gosh I'm out of my depth here. I could very easily think that, and it certainly crossed my mind. Essentially building up the fear of taking on something that looked seriously bloody hard to do. But then, and hopefully not sounding too cheesy, what you take out of experiences is somewhat down to you. I thought about why I'm doing any of this in the first place and thought about how Chris must have felt when he landed on that beach. The accomplishment after all the hard work in training, planning and eventually successfully completing his swim is a feeling that I can imagine and can lock away in my mind to keep me motivated. I planned to stay awake the whole swim to get a full measure of the distance (I may have nodded off at one point…), and now I realise that I need to keep training seriously hard (or there's no hope), and to focus on success. Thanks Chris for the experience and helping me focus the mind.
He's raised an incredible £9,600 for the Carer's Trust, with an aim of £10,000. Help him push it over the line by donating here