Last weekend we took our boat, Lady Susan, out for the first time. The first thing we noticed was that she was a lot smaller than the boat we had taken out in September. The deck was pretty much completely occupied by the two rowing positions and when the rower at the stern (back of the boat!) sat back he would be somewhat in the way of the other rower when he reached his oars forward. So it was a bit more cosy. After a few moments, Charlie, owner of Rannoch Adventures, who we're hiring the boat from, came down and said hello, as we were packing in the gear that's been provided for us by Fourth Cape and Musto. He recommended a good route to take with the tides and where was suitable to anchor up for the night. He then watched us row out of the harbour and then pretty much left us to our own devices. Considering we'd only been in one of these boats once before and that was back in September, I think there was a degree of trepidation on both sides.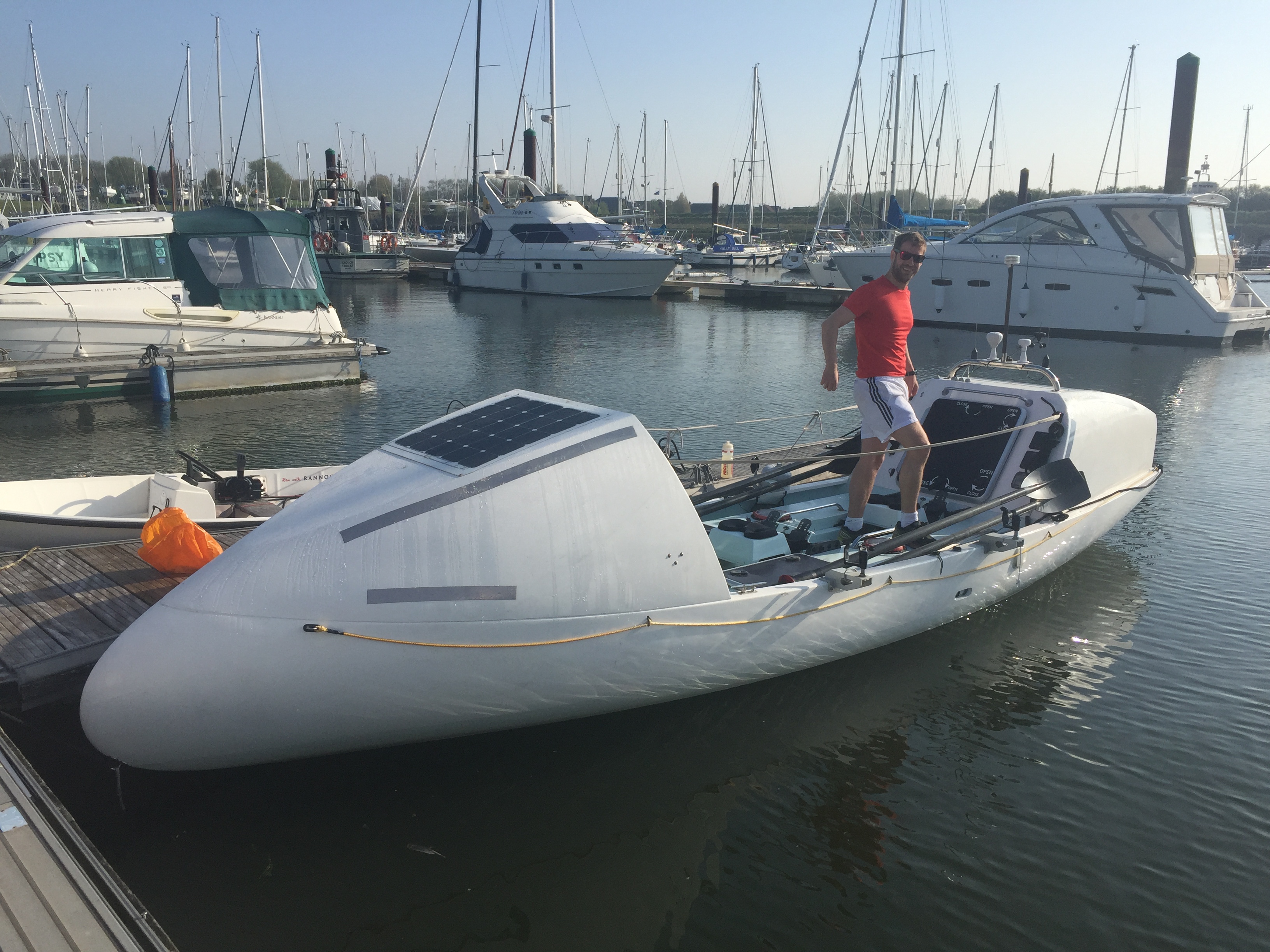 We had a beautiful weekend as you can see from the photos but there was a bit of wind. We struggled to row in a straight line to start with. When we took the boat out before we had an autopilot installed which helped track straight. Lady Susan had just returned from crossing the Atlantic and was yet to be serviced so we were using the steering lines to manually set our course. Left line to turn left, right line to turn right. Simple, except of course when you're rowing and facing backwards. We reverted to port and starboard instead of left and rights and immediately felt more nautical. However, crosswinds would hit the stern pushing the bigger cabin which would turn our nose into the wind. We quickly realised that a pull on the steering lines had a delayed effect, and that they were quite sensitive which essentially led us down a giant slalom course. Certainly not the most efficient use of energy but slowly we got used to this. The mind wonders what that would be like in a strong wind…
We made our way down the river Crouch on our way to the mouth, although on this occasion we weren't planning on entering the open sea. Our aim was to make it to another river, the Roach, which was near the sea. However the wind was against us, the tide changed and we found ourselves rowing but not moving anywhere. We decided to let ourselves drift and have a cup of tea instead. Things happen fast on the sea. Half way through our cup of tea we realised we'd drifted out of the 'fairway', marked by buoys, and into an area that appeared to be currently used for a race. We were a bit slow on the pick up, but the rather angry looks on some of the sailors who came flying past, missing us by mere inches, made us realise that we were in the one place that Charlie had told us to stay out of. Tea down, oars out and quickly back to the fairway.
We rowed right up the river, past Fambridge and then decided to try anchoring, something that neither of us had done before. We found a spot that we thought seemed good (not too near the river bank and not too far out), and started releasing the anchor. It kept going down and down and down and pretty soon we were running out of rope. We were clearly too deep. To make matters worse, with no anchored anchor and the cursed wind and current, we were making our way quite quickly to the bank. Panic stations set in. Rob started pulling the anchor up and I tried to get past to get to the oars and next thing we know an oar has gone overboard and is floating off impossibly in a different direction to us. After a kerfuffle, I'm seated with the other two oars and Rob has the anchor in and we manage to turn back away from the bank and retrieve the wayward oar. Lesson #52, remember to lock the oars in the rowlocks so that can't happen.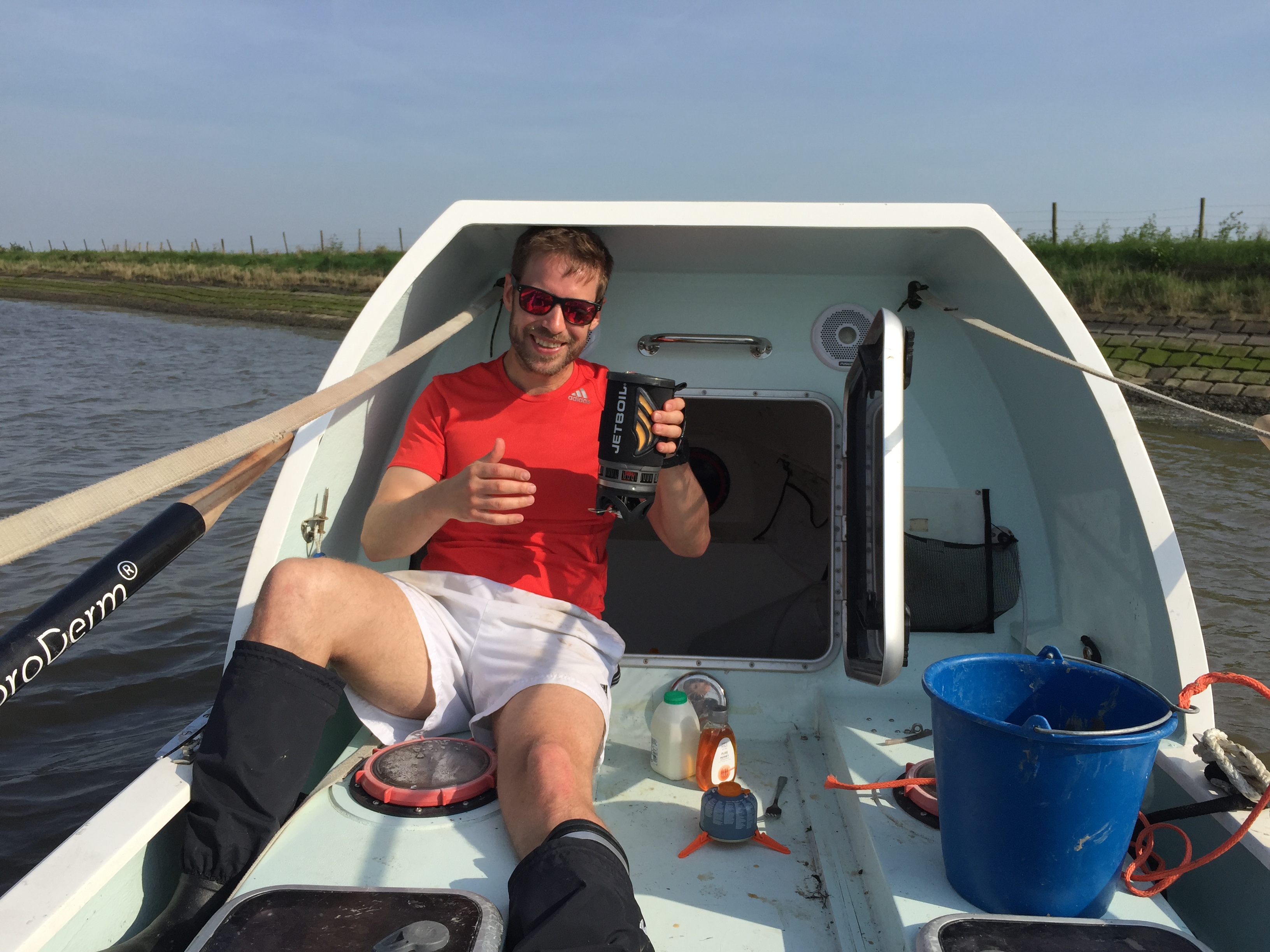 We row back towards Fambridge to have a well deserved early evening pint at the pub. Last debacle of the evening was trying to moor up at the pontoon. I was on rowing duty and was taking Lady Susan in slowly and Rob was on steering and hopping onto the pontoon duty. We came in and I swung it round. It's awkward with a rowing boat because you have these hopelessly cumbersome 8ft oars and when you have a pontoon on one side you need to get your oar out the way. Anyway, Rob panicked and took a leap of faith, which sadly was mistimed. One foot just made it onto the pontoon the other came trailing through the water and ended with a crack on the shin from the pontoon. A few heads turned and we quickly gained control of the situation and parked her up. Nerves in jitters, but also exhilarated by the day, we sat outside and enjoyed a quick drink. The specials board looked extremely tempting but we didn't hang around as the sun was going down and we wanted to find a good anchoring spot before sundown.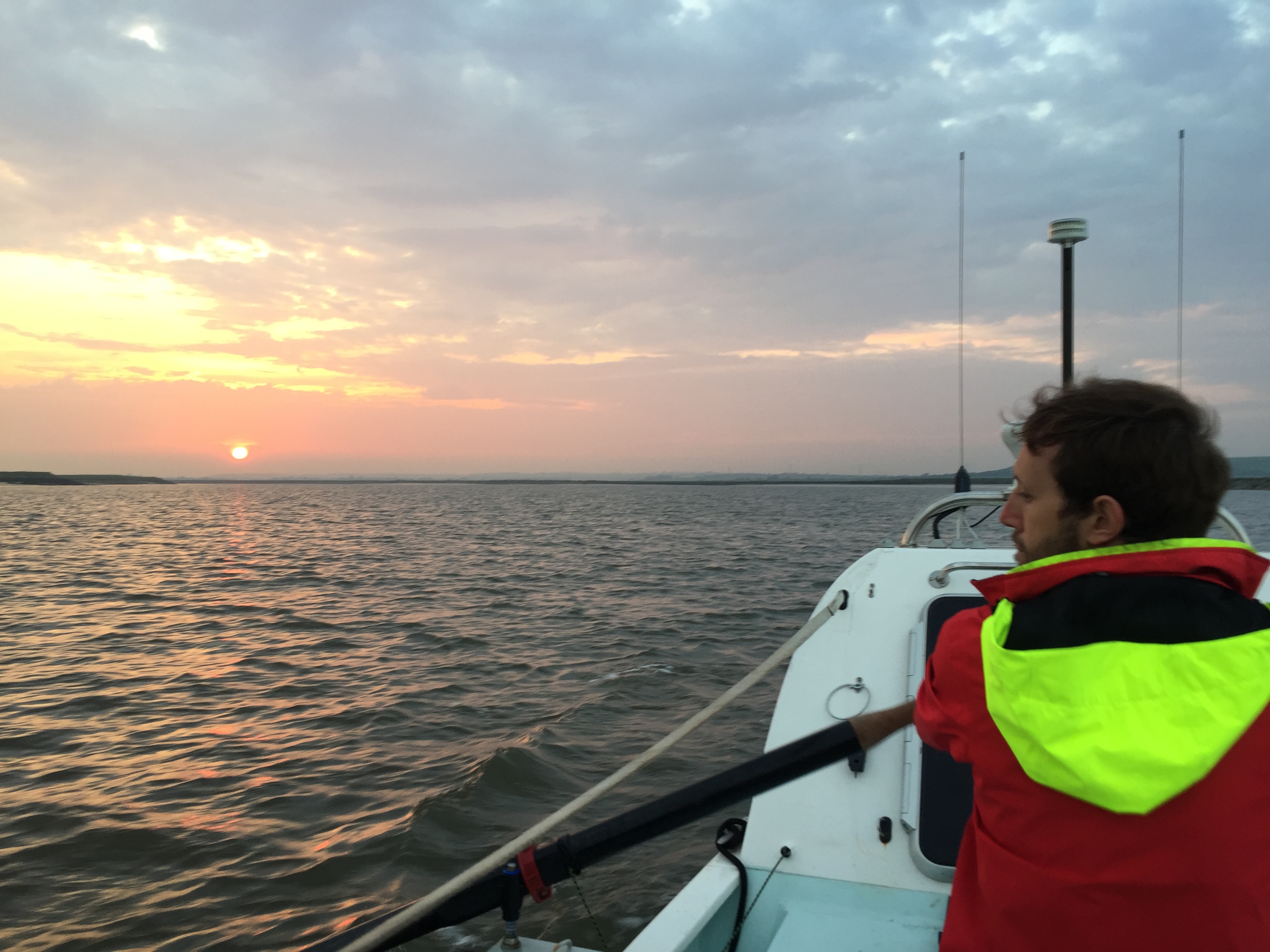 We rowed for another hour down the river to a place Charlie suggested and dropped the anchor. Again, we were a little nervous about this as we didn't want to get it wrong and wake up in the middle of the night drifting away somewhere, however this time was a lot more successful and we took our bearings to make sure the boat was steadfast. We could now relax. Nick from Fourth Cape had given us a whole load of hydrated food as we haven't ordered ours yet. By evening, we had already had two breakfast burritos each, a chilli con carne and chicken stew. Tonight we were going to cook up a spaghetti Bolognese. We were using a Jetboil which we had got, along with various other things, from GoOutdoors who kindly discounted everything for us. The Jetboil is great. Boils water in about 2 minutes. Next lesson was about how to rehydrate dehydrated food. Top tip is to stir it very well and then seal it. Otherwise you end up with solid bits of food in and amongst the slop. Rob was a big fan of the food. I eat anything but I wouldn't have described it as delicious.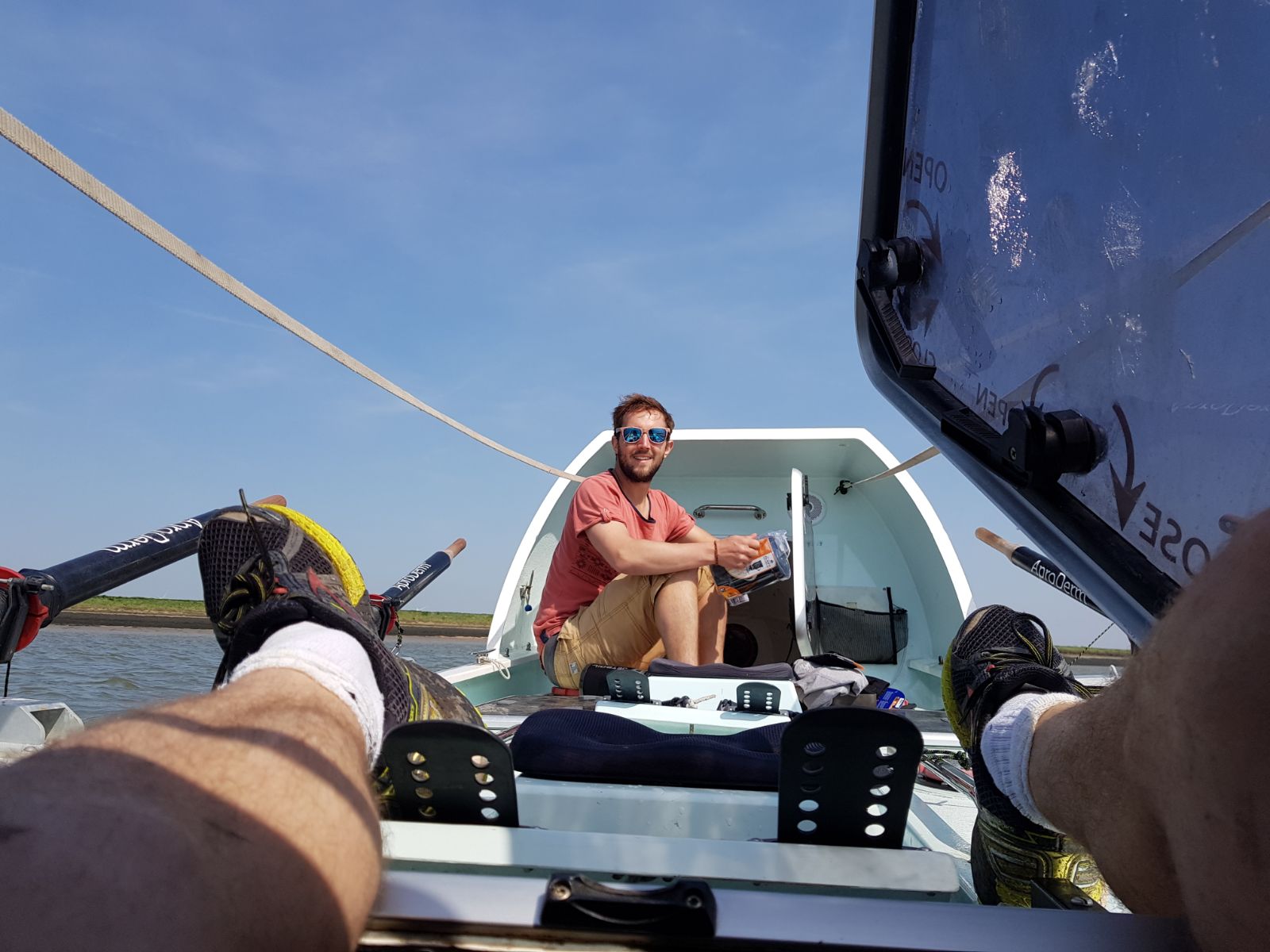 I mentioned this boat is a bit smaller, and that applies to the 'cabin' as well. We have recently invested in two top of the range Ocean Sleepware sleeping bags. These babies dont' come cheap but they have a waterproof cover and warm, labrador-feel fur lining. They're rather bulky things and we were a little close for comfort I would say when bunked up together. For the actual row, we won't be sleeping there at the same time as one of us will always be rowing. The only time we will be in there together is if it's too windy and wavy to row, in which case we probably won't be getting much sleep either! Sufficiently weary after a 6am start and a full day rowing, sleep came pretty quickly. Rob, being the early bird that he is, woke me up at the crack of dawn. I was quite happy to doze while he pottered about on deck, happy to see that we were still floating in the same spot that we were the night before. We cooked up a hydrated full english breakfast which was surprisingly good and made ourselves a cup of tea. It was an absolutely glorious morning and we had the river to ourselves. We rowed down it with the tide, back to Burnham and a little further down. We'd make a rookie error and not brought enough water. We'd actually thought we would be able to use our electric watermaker but it also needed to be serviced so we were quite short. So after a few more hours of rowing up and down, while trying to remember to stay within the fairways, we made our way back to the harbour. It was an enlightening experience and showed us that you can learn a lot very quickly but also that we really didn't know much and had a lot to learn. We haven't had as much access to the boat as we would have wanted or that we had planned but there isn't much we can do about that now. We plan to take the boat out two more times before we leave which might seem madness considering what we're doing but unfortunately time is of the essence and we've got swimming, running and cycling to also plan and train for. 6 weeks to go!